Average Law School Debt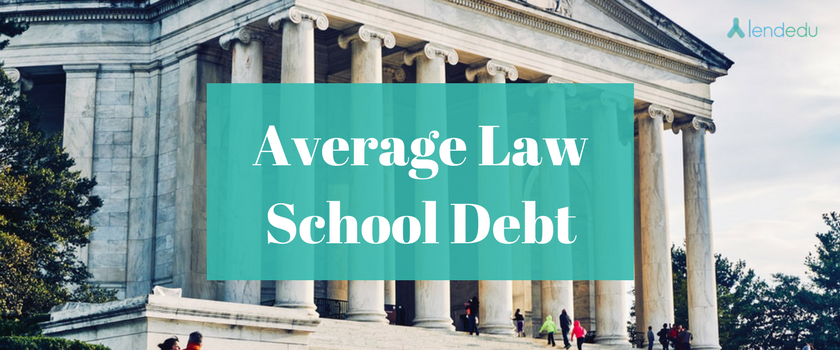 If you attend school full-time, you should be able to become a lawyer in seven years – four years as an undergraduate at a college or university, then three years in law school. There is no set requirement for an undergraduate course of study necessary to get into law school, but experts advise that you take courses that sharpen your critical thinking and writing skills. Popular majors are history, English and political science.
Note that some states, such as California, allow you to enter law school after only two years of undergraduate coursework.
Following graduation, you'll take the Law School Admission Test (LSAT) and hopefully get a good-enough grade to be accepted by a law school. After graduating law school, you are a lawyer, but you need to sit for an exam administered by your state bar to earn a license allowing you to practice law in your state.
Costs of Legal Education
Your legal education begins in a four-year undergraduate program. The College Board reports that, for the 2016-2017 academic year, in-state colleges cost an average of $24,610 annually, whereas private college costs averaged $49,320. An undergraduate degree will cost somewhere between $100K and $200K on average, and even more if you attend an Ivy League school. Without a doubt, law school students have higher than average debt after graduation compared to the rest of the nation.
Once you graduate college, your next challenge is to get into law school and pay for it. U.S. News & World Report's 2015-2016 survey of law schools provided the following snapshot of annual full-time costs such as tuition, fees, room and board, books and supplies, personal expenses and transportation:
Lowest private school

: Brigham Young University, $23,940
​Average private school: $45,467
​Highest private school: Columbia University, $62,700
​Lowest public in-state school: University of North Dakota, $11,161
​Average public in-state school: $25,890
​Highest public in-state school: University of Virginia, $54,000
​Lowest public out-of-state school: University of the District of Columbia, $22,402
​Average public out-of-state school: $38,885
Highest public out-of-state school: University of Connecticut, $57,852
Thus, the three-year average cost of law school tuition and fees ranges from $77,670 to $136,401. If you live in North Dakota, you could escape for only $33,483. If your heart is set on Columbia University Law School, be prepared to shell out $188,100. Don't forget to add on all your living expenses, books, transportation, etc.
When you total up the seven years of schooling, you are looking at costs between $150K and $400K, and perhaps much more. Many law students are forced to take on private loans to supplement their federal aid which greatly increases their obligation to repayment when starting their careers.
Average Debt at Graduation for Lawyers
Law schools report that the average student loan debts for graduating lawyers range from $24K to more than $170K. However, these numbers include the effects of scholarships and exclude living expenses, which means you need to double (or more) the average costs — $48K to $340K.
Let's look at student indebtedness for graduates of the prestigious Harvard Law School. A Harvard Law grad with no scholarships will owe between $297,548 and $322,348, which works out to a total repayment of between $400,000 on a 10-year plan and $550,000 on a 20-year plan once you add interest.
Lawyer Salaries
Repaying hefty law school student loans requires a hefty salary after graduation. A 2015 survey put the top starting salary for a lawyer at $160K and the median at $135K. You earn more if you work in a big city at a big law firm. If you work at a tiny law firm out in the country, you should expect a smaller salary. Luckily, for many lawyers, their salary puts them in a good position to repay their loans, and many do not have to rely on student loan consolidation.
Despite this, their salary actually puts them in decent position to refinance so long as they work with lenders who take future earnings into account. The whole point of student loan refinancing is to drop your interest rate and restructure your repayment term. An applicant with high income has a better chance of getting a lower interest rate which is why a lawyer may be a good applicant.
Loan Forgiveness
If you've ever lost a court case, you might find it hard to forgive your lawyer. However, your lawyer might receive student loan forgiveness through several programs:
Public Service Loan Forgiveness

: Can be used to forgive Federal Direct Loans (but not Perkins Loans) for employees of:

AmeriCorps, in a full-time capacity, or the Peace Corps
​Federal, state, local, or tribal government organizations
​A 501(c)3 nonprofit
A not-for-profit that's not 501(c)3 designated but meets other requirements related to public service

​Department of Justice Attorney Student Loan Repayment Program: Open to DOJ employees with at least $10,000 in federal student loans. You can receive $6,000 a year for up to 10 years. You must commit to three years of DOJ service.
​John R. Justice Student Loan Repayment Program: Work as a public defender for at least three years and receive up to $10,000 a year, with a maximum award of $60,000.
Herbert S Garten Loan Repayment Assistance Program: It's a lottery for lawyers with at least $75K in student debt who work for one of the program's grantees. About 70 lawyers each year receive up to $5,600 each.
Also note that many states have their own loan repayment assistance programs as well.